The question of how to send documents securely is one that many companies are asking themselves today.
The area of document sending and sharing is one of the most high risk activities in business today. It is worth noting that over 90% of all cyber attacks begin with an email – the very tool many companies still rely on to send documents.
In today's world where businesses face many rapidly evolving cyber risks, the security risks around document sending can not be left unaddressed. To help you understand the best ways to send documents securely, we have put together a quick "how to guide". Read below for some helpful and actionable tips!
Definition
Before we get into the guide, it is worth taking a moment to consider the question of what exactly is meant to "send documents securely".
In essence, sending a document securely means that only the recipient will be able to view it – securing the document from potential hackers or recipients other than the intended recipient. The good news is that there are security measures that, once put in place, ensure that the document remains secure from the point of sending to the time the recipient opens the document.
6 Ways to Send Documents Securely
In this guide we will outline 6 quick and effective ways you can send documents securely.
1 – Use End-to-end encryption(E2EE) to Send Documents Securely
E2EE a method of secure communication that hinders third parties from accessing data being sent from one device to another. Encryption provides a higher level of security compared to password protection. The data is encrypted and only the intended recipient can decrypt it. 
How End-to-end encryption works
On the endpoints, keys (cryptographic keys) used to encrypt and decrypt messages are stored. This approach uses public key encryption.
In online communication, there is often an intermediary handing off messages between the sender(s) and receiver(s), which is usually a server belonging to an ISP (Internet Service Provider), a telecommunications company, or a variety of other organizations.
E2EE ensures that intermediaries cannot tap into messages being sent.
2 – Use Password Protection to Send Documents Securely
You can either protect an entire folder with a password or a single file, such that only the recipient has access to the password. That way you are able to minimize prying eyes and hacking as well.  Create a strong unique password that will secure your documents. In case you are experiencing difficulty in creating one, you can put a password manager to good use. 
3 – Leverage Secure Cloud Storage Tools
Using cloud storage options like Dropbox or Google Drive provides options to send documents securely. For instance, if you are using Dropbox to share your document, a link is sent to the recipient to access it. With encryption, using Dropbox to send documents ensures the security of your documents, and only the recipient has access to the document (s) sent. On the other hand, with Google Drive, you can send your document securely and grant access to the recipient. It also uses encryption and the documents sent are secure.
Secure cloud storage solutions also offer options to protect your shared documents with a password, allow or prevent editing or downloading and you can also set up an expiration date for document accessibility.
4 – Use PlanetVerify, a Secure File-Sharing Platform
According to the 2020 edition of research conducted by IBM/ Ponemon Institute, 52% of data breaches are caused by malicious attackers, meaning that there are people out there hungry for the data you collect from your clients. 
PlanetVerify is a GDPR, CCPA, and WCAG-compliant and secure way to collect information from your clients and share documents securely. Not only does it secure document collection and sharing, but it also completely eliminates the risks associated with the use of email. By providing a secure and controlled environment for file sharing and collaboration, businesses can optimize their processes, reduce the risk of data breaches, and gain a competitive edge in their market.
5 – Update your Email Settings to Minimize Risks of Attachments
Gmail and Outlook provide options that enable you to encrypt an attachment before sending. Here is how you can go about it:
For Gmail
Step 1: Open Gmail and click the compose button as shown below.

Step 2: Turn on Confidential Mode and click the 'padlock' icon highlighted below.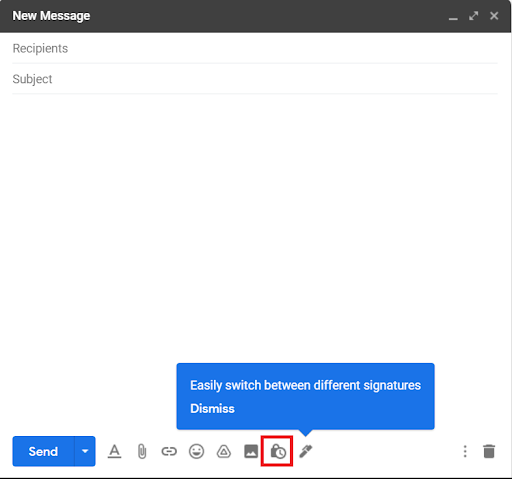 Once you click on it, this is the message that will appear on your screen.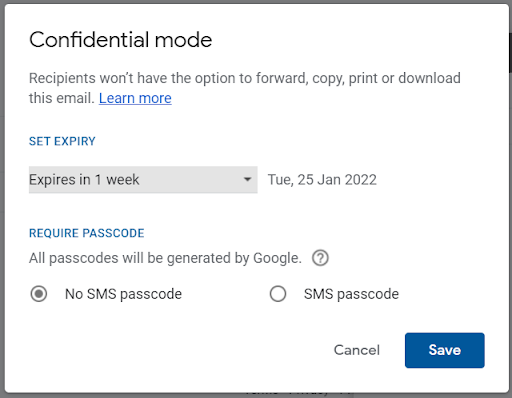 Set your expiry and choose whether to have an SMS or no SMS passcode which is automatically generated by Google, then click 'save.'
Step 3: Send the Email – type your message and send your encrypted email.
For Outlook
To encrypt an attachment or a specific message you are sending,
Step 1:

Open Outlook

Step 2:

Click Compose

Step 3:

Click File>Properties

Step 4:

Click Security Settings then select Encrypt message contents and attachments check box

Step 5:

Compose your message and click send
To learn more about encryption using Microsoft Outlook, click here.
6 – Protect the attached document using a password
Word documents and PDF files can be protected using a password. Here is how.
For a PDF file:
Step 1:

Open the PDF you want to encrypt in the editor.

Step 2:

On the top toolbar, click Tools > Protect > Encrypt > Encrypt with Password.

Step 3:

Check the box next to Require a password to open the document.

Step 4:

Choose a password in the text block.

Step 5:

Select a compatibility encryption level from the drop-down menu (needs to match the receiver's version of Acrobat).

Step 6:

Choose an encryption level (Encrypting all document contents is the most common).

Step 7:

Click OK, retype the password, and press OK again.
To learn more about encrypting a PDF file, click here.
For Word Documents:
Step 1:

Open the Word document in Ms. Word

Step 2:

Select File>Info

Step 3:

Click on the 'Protect Document' drop-down menu

Step 4:

Select 'Encrypt with password'

Step 5:

Upload your password-protected document to Google Docs or Drive
Encrypt the entire email
For Outlook
You can encrypt all outgoing messages using Outlook but all potential recipients must have your digital ID to decode or view your messages. 
Step 1:

On the File tab, select Options> Trust Center> Trust Center Settings

Step 2:

On the Email Security tab, under Encrypted email, select the Encrypt contents and attachments for outgoing messages checkbox.

Step 3:

To change additional settings, such as choosing a specific certificate to use, click 'Setting.'
For Gmail
You can refer to how to encrypt attachments for Gmail above. If you have an eligible paid Google Account, you can enable stronger encryption.
Why Is It Important to send documents securely?
It is important to note that sending documents securely minimizes the risk of data breaches. The reputation of your organization and your finances are at risk if you do not send documents securely and to top it all up, you incur heavy legal penalties for such negligence. Here are some reasons why it is important to send your documents securely.
You ensure set guidelines outlined by the government like the GDPR are followed.

It boosts customer confidence.

It drastically reduces the chances of hacking.

It increases data security all-around for the organization.

It protects highly confidential information.
A New Way to Collect and Share Client Documents
Transform the way you collect and share client documents and data. Save time, improve client experience, and ensure data compliance. Try PlanetVerify for free today!
LET'S GO!